Introduction
The People Inc. Resource Planning feature is included alongside the Roster Planning tools within the People Inc. time & attendance module. Using the shifts assigned to staff, this feature provides details of hourly resourcing levels each day, team-by-team. These figures are automatically adjusted for holiday bookings and scheduled breaks (for example lunch breaks).
Users are able to specify the number of staff they need at different times throughout the day, and the system can then show any shortfall (or surplus). This makes it possible to see where additional cover is required (and adjust staffing levels accordingly).
Overview
A tool designed to manage planned staffing levels where the resource required varies from hour to hour. This feature is used to fine-tune staff rostering and ensure that cover is available in key areas throughout the working day.
Staffing levels are adjusted by changing the shifts assigned to individual members of staff, or by rostering staff who usually work elsewhere within the organisation. An overall budget figure for the team can be specified and a comparison made between the hours booked and the budgeted figures. This makes it easy to ensure that scheduled hours do not exceed budgeted hours for each team.
Resource Planning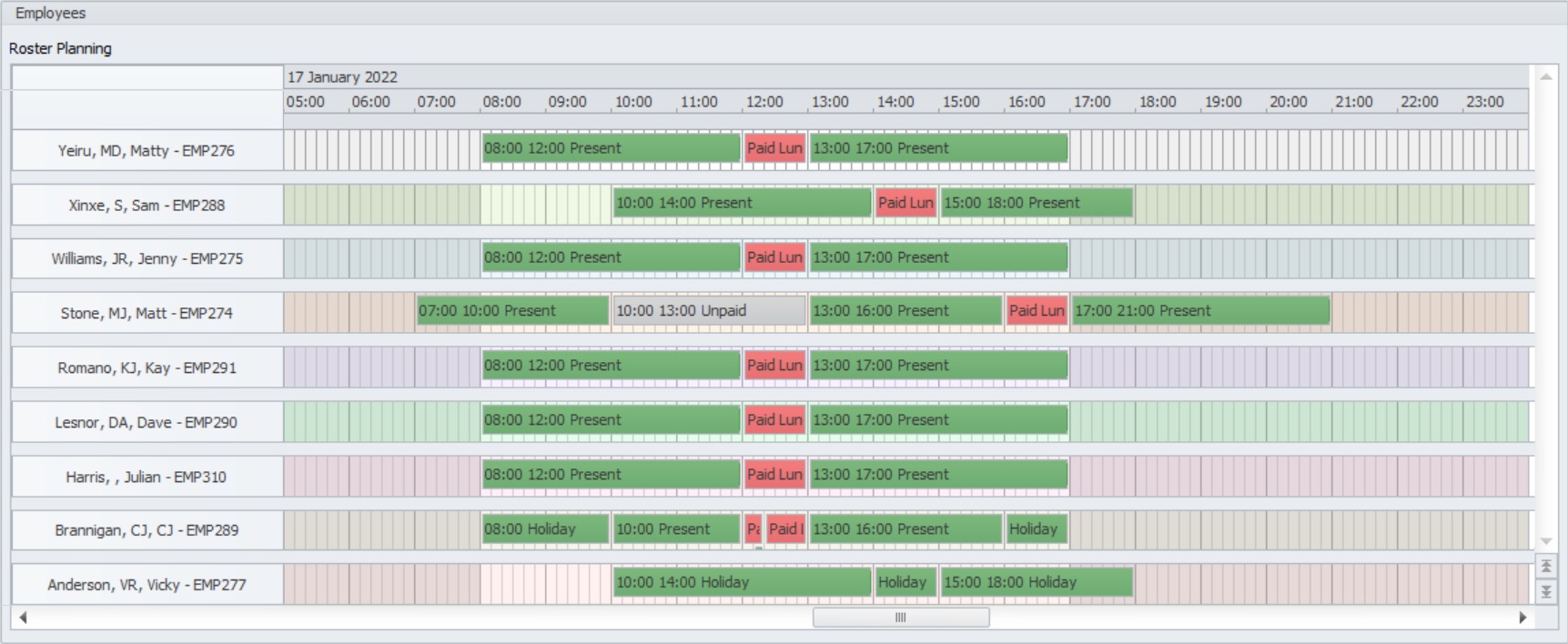 Managing Working Hours
Making sure staffing levels are sufficient to provide cover and deliver a minimum level of service is key to the smooth-running of any organisation. People Inc. includes a range of features designed to help with resource management and staff attendance.
Several different tools are provided within the People Inc. system to help with the management of working hours and shift patterns. Starting with a basic 7-day work pattern, the system can be enhanced to manage detailed, flexible staff rosters covering 365 days a year. The hours staff actually work can then be recorded within the system, and (in conjunction with the staff rosters) used to generate attendance, overtime, flexi-time and payroll information.
Roster Planning
The Roster Planning feature included as standard with the People Inc. time module is used to build an overall shift-pattern for staff; each employee is assigned a shift on the days they are at work. Where roster planning tools are used to schedule staff attendance, they will also provide an indication of the numbers of employees working in each team or area (a simple tally of the number of people on the roster will provide this).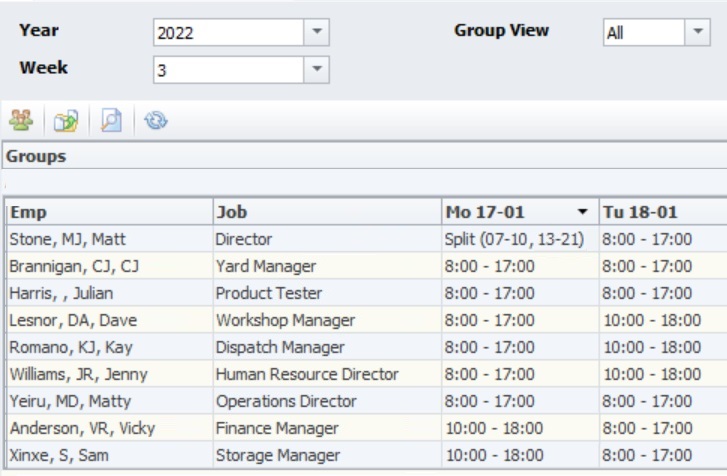 Employees can be assigned a shift (day to day) using a rostering tools. Once this is complete for a team of people for a week or a month, it generates a shift plan (or shift pattern). An overview of the staffing levels in each area can be worked out from the shift plan fairly easily, and for some applications this is sufficient.
In a more complex situation this is not necessarily the case (it is not always easy to gain an understanding of the numbers of people at work by glancing at the roster).
Where the working day runs for more than 8 hours, shifts then need to start and end at different times (more staff are required at peak times and some staff may need to work part-time or on split shifts). As shifts and workloads become more varied, it makes it more difficult to build a detailed picture of staffing levels throughout the day using a simple roster.
Resource Planning
The People Inc. Resource Planning tool helps to ensure that on any particular day, areas of the organisation have sufficient cover for the expected workload. It is designed to analyse the shift-pattern for a team and give a breakdown of the resource available in an area (hour by hour). This is particularly useful where the staffing level needed within a team varies at different times of the day.
The Resource Planning feature provides a week's worth of information per team and displays the shifts assigned to members of staff on each day using a Gantt chart. From this view it is easy to gain an understanding of the approximate staffing levels hour by hour.
While most users will set hourly bands throughout the day, it is also possible to use shorter or longer periods of time when defining bands. Users can then specify the number of staff required per band (adding more resource when they expect the team to be busy, and reducing the number of staff when it is usually quieter).
While one week does not have to be the same as the next, if it is, the target levels can be copies week to week (saving a great deal of time for the user).
Features
View detailed chart of the staff roster for each day
Set custom bands (hours or parts of a day)
Set target staffing levels for bands (usually hours)
Compare rostered resource to target levels (per hour)
Rostered resource auto-adjusted for leave (and for breaks)
Compare total rostered hours to budgeted hours (per day)
Copy bands, hourly targets and budgets week-to-week
Target staffing levels are set (by the user) throughout the day using the bands they have defined. These are automatically compared with the planned totals (derived from the shifts assigned to employees). Planned absence such as holiday is taken into account as part of this process, as are breaks (lunch, etc.) and the Resource Planning tool is then able to highlight periods of the day when the team is understaffed (or overstaffed).
Users can do two things to adjust staffing levels on a particular day: they can change the shift assigned to employees, and they can roster additional staff (staff who usually work in other areas of the organisation). The Roster Planning tool then re-calculates the figures for the day.
Benefits
Ensure staffing cover is provided and service-levels attained
Manage and maintain staffing levels through the day
Ensure staffing costs fall within budget
Updates automatically reflected in staffing rosters
Optimise working hours for staff
Each day (of the year) is managed independently, so where the organisation has more demand at different time of year, the figures are adjusted accordingly.
Having too many people at work on a particular shift (or day) has a very different, but nonetheless just as important consequence. Staff who are under-utilised could be better employed elsewhere (in another area of the organisation) or re-scheduled to work on another day.
A budgeting feature can be used to ensure that the total resource used does not exceed the number of hours budgeted for each team on a particular day.
Adding Resource Planning to your People Inc. system.
The Resource Planning tool is included as a standard feature within the People Inc. time module. Users who have used People Inc. time for a number of years may need to upgrade their system to the latest version before that can use this functionality. Please call our help desk to discuss adding the Resource Planning tool to your copy of People Inc.
Discover more about these topics

Related Features
There are a number of features included with the People Inc. system that are designed to manage staff scheduling, staffing levels and resourcing. Some examples are provided below:
External Resources
The following links provide additional information about resource planning and employee attendance. The links are to pages on websites over which we have no control. This information is provided for reference only.