Vizual HR Software
Between 1999 and 2009, we supplied Vizual Personnel Manager to small and medium sized organisations. During this time Personnel Manager was our main HR management system; in 2009 we had around 4000 clients using the system to manage their HR information.
Vizual withdrew the product from sale in 2009, however, we continue to provide advice and support for organisations that use Personnel Manager. This includes telephone-based help desk services, user-training, and system configuration and report writing consultancy. Our help desk team are happy to answer your Personnel Manager queries (please call us on 01908 265111).
The most recent version of Personnel Manager was released in 2005 (and Vizual will not now provide further releases). As a result, there are compatibility issues with the latest versions of Microsoft Windows and Microsoft Office. For example, to use the full range of feature offered by the system, users will need to continue to use Windows XP.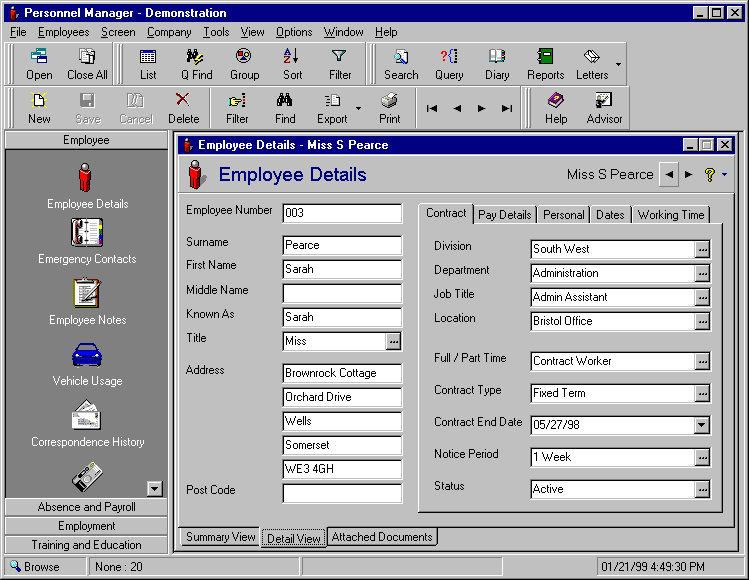 It is possible to upgrade from Personnel Manager to our current HR information management system, People Inc. The upgrade not only preserves all system data, it also provides users with a product that has a similar approach and familiar look and feel, minimising change, and minimising disruption.
Free Online Sessions
P&A Software run regular online taster sessions for Personnel Manager users. These are designed to provide users with an insight into selected areas of the functionality offered by the system. Each session focuses on a particular topic and generally last around 20 minutes. The sessions are run monthly and all Personnel Manager users can attend free of charge. Please see the page on online sessions (click here) for more information.
Upgrading to People Inc.
Please see the page on upgrading to People Inc. (click here) for more information on our replacement for the Personnel Manager system.