Vacancy Screen
People Inc. enables organisations to manage a wide range of HR information; this includes the details of vacancies and applicants. Users can then use the system to look after all their recruitment activities: register applications, move applicants through their selection process, offer jobs, and take up references. People Inc. can also be used to generate e-mail, letters, and recruitment reports, both during and on completion of the recruitment process.
Vacancy Information
There is no restriction on the number of vacancies that can be managed using the system, and details of old vacancies are usually retained within the system's database. It is possible to associate any number of applicants with each vacancy, and once the successful candidate is found; their details are used to create their basic employee record. The remaining applicants can make up a 'talent pool' and help to fill future vacancies.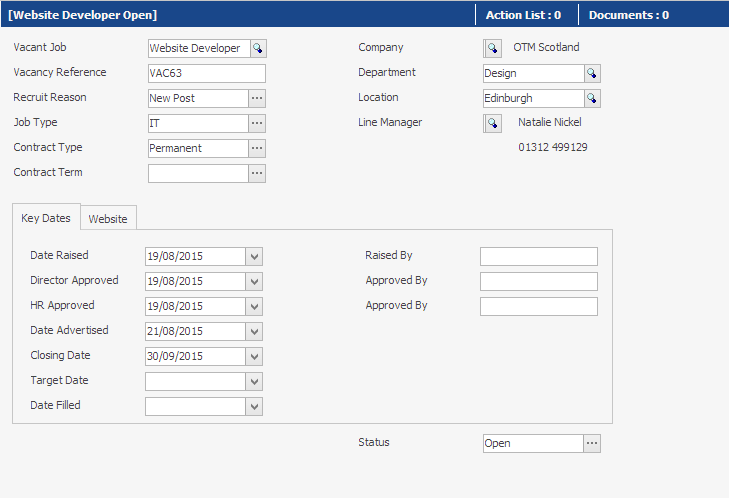 The Vacancy screen provided with the system can be used to record comprehensive vacancy details. Where additional details are required, perhaps to satisfy an industry-specific requirement, the People Inc. Screen Design tool can be used to add text fields and pick-lists, date fields and check-boxes. The user can therefore build a vacancy record that completely meets their organisation's needs. It is also possible to add triggers to generate reminders for important dates (closing date, target date, etc.). These reminders are created within the user's Action List.
How recruitment is managed in People Inc.
Applicant details can be added to the system manually, and file attachments (for example the employee's CV) can be recorded with the records. Applicants can also come from within; generated from employee requests for consideration for another position. Alternatively, it is possible to collect applications directly from the organisation's website using the optional People Inc. Web Recruitment add-on. When this is done, the candidate will complete an on-line form and attach their own CV (and perhaps covering letter).
Once again, the Screen Design tools can be used to add to the types of information recorded for each applicant, and these additional fields can be included on the on-line application form if required. If needed, it is also possible to have a number of different versions of the on-line application form, the content of each dependent on the type of vacancy
The vacancies listed on a website using the Web Recruitment module can be categorised and published in separate lists as required (perhaps by location, or type of job). To add a vacancy to one of these lists, the user simply ticks a box on the screen (there is no need to interact with web designers or IT teams).
The steps in that organisation's recruitment process are usually configured within the system's applicant screen. The majority will base this around the 'apply-shortlist-interview-offer' core-process. To move an applicant from one strp to the next, their current status is updated. The user can then generate e-mail or paper-based letters for important steps (retaining copies within the system as necessary). Letters and e-mail can be generate one-by-one or for groups of applicants.
Relevant reports
A full library of recruitment-related report templates are included with the People Inc. system. Additional report templates can be downloaded from the customer area of the People Inc. website. These report templates help user to manage their recruitment effectively (interview schedules, shortlisted candidates, analysis of source of applicant) and provide management reporting (costs of recruitment, staff turnover reporting). The reporting tools can generate printed reports, or Excel spreadsheets, Word documents or PDF copies of reports.
ESS Integration
Organisations who have adopted the People Inc. Employee Self-Service module can include line-managers and other senior staff in the recruitment and selection process. The ESS provides an on-line portal enabling line managers to submit a request to recruit a new member for their team or department, these requests can pass thought an authorisation process (authorisation from senior managers and HR). Line-managers can also contribute to the shortlisting process, and update interview records within the system via their ESS login.
Find Out More
If you would like to learn more about managing recruitment using People Inc. please contact us (enquiries@pasoftware.co.uk, 01908 265111).