Report Browser
The Report Browser is a new feature that enables People Inc. users to review the report templates that are available as free-downloads from the People Inc. website. Users can then select and install individual report templates for use within their People Inc. system.
The standard People Inc. system includes around 200 report templates. These can be found in the Report Library within the system. For some time it has been possible to download additional report templates and import them into the Report Library, but until now this has been done manually. The Report Browser plug-in automates the process and provides users with quick, easy access to around 200 additional reports.
Report Browser plug-in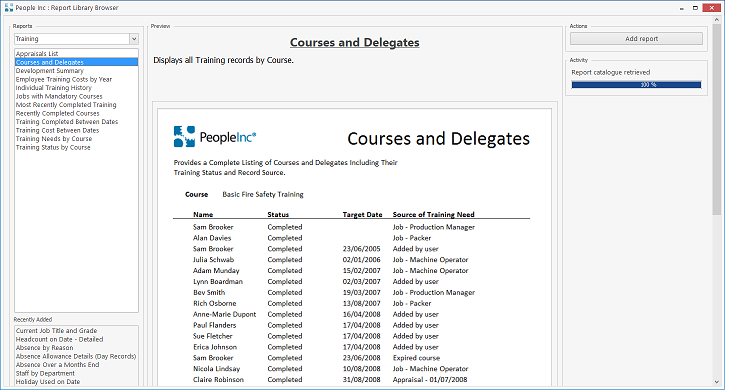 Features
The Report Library Browser provides the following features:
The plugin is loaded from within the People Inc. system. A list of the reports available on-line is provided in just a few seconds.
It is possible to install the plug-in but control who has access to it (using standard People Inc. security profile functionality).
The user can browse through the online report library, category by category. A description and preview of each report is provided as the user moves between entries.
The reports can be downloaded and installed within People Inc. The user is able to choose whether to add the report to the Report library or to an individual data screen.
The plug-in provides a list of report templates that have been added recently.
Benefits
This new People Inc. plug-in provides users with a number of significant benefits:
While users can still create their own report templates using the People Inc. report writer, a much wider variety of reports is now available to users who have not yet learned to use this tool.
As new report templates are developed (either as standard offerings, or commissioned via the People Inc. report-writing service), these will added to the on-line library and will therefore be available via the Report Browser plug-in.
The plugin enables users to download and install report templates at the click of the mouse. This replaces the more time-consuming download/installation process that has been required until now
The plug-in displays a preview for each report template. This makes it easier to understand what the report is designed to do (and how it will look).
Webinar
If you would like to gain a better understanding of this plug-in and what it is designed to do, please join one of our free webinars:
Monday 19th March @ 2pm - fully subscribed
Thursday 22nd March @ 2pm - fully subscribed
Wednesday 28th March @ 11am - fully subscribed
Wednesday 4th April @ 2pm - fully subscribed
To book a place on a Webinar please contact your account manager either by telephone or e-mail.
Also Available
New Wizards and Plug-ins are regularly added to the People Inc. system. These can all be downloaded from the People Inc. Resources pages. Plug-ins that provide the following functionality are currently available:
View an employee's absence in a calendar/li>
View a group of employees and their absence
View and manage Organisation Charts/li>
Publish pay-slips via the People Inc. ESS/li>
Access the on-line library of report templates/li>
Download Report Browser Plug-in
A copy of the Report Browser plug-in can be downloaded (and installed) free-of-charge from the Resources area of this website. Once downloaded, you are likely to need to ask your IT team to install the plug-in for you. Please note that you will need to register for an account before you can access People Inc. resources. Click here.