Introduction
People Inc. time is a fully-features time & attendance module. Users schedule staff shifts via an interactive calendar tool. The system records the times that employees clock in and out. This is done via a range of clocks. The clock times are automatically compared with shift patterns and any exceptions are highlighted. Users are notified when staff clock in late, or when the return to work after a period of absence (for example).
A range of hardware clocks is available. These come configured with biometric readers (finger-print) or proximity readers (credit-card style or key fob). Employees swipe a card or use their finger-print to clock in and clock out. They can also clock in and clock out using the keypad on the clock.
Clock events are processed by People Inc. time in real time. This means that staff can list of the employees currently clocked-in at any point in time, and can generate fire list reports. Any number and combination of clocks can be linked to a single People Inc. time system, and clocks can be linked to door locks to provide access control if required.
Software Clocks
The People Inc. Employee Self-Service module provides individual employees with controlled access to HR information. It also enables them to fill out forms and submit requests. Extending the integration between the Employee Self-Service module and People Inc. time, a new feature delivers a software clocking terminal that can be used to register employee attendance. Employees can use this feature to clock in via their PC or via their mobile phone.
The software terminal provides a greater amount of flexibility and significant cost savings over traditional hardware clocks. Different groups of employees can be assigned different options on the software clocking terminal to reflect differing working practices (such as working from home). Software terminals can also make it easier for an employee to register breaks (as they can do this via the ESS rather needing to return to a physical terminal).
For organisations who have just a single hardware clock linked to their People Inc. time system, the software clock provides a back-up option, and also enables them to have different configurations of clock running at the same time.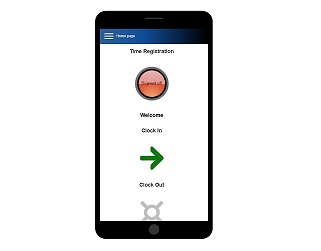 Features
Different terminals can be assigned to different groups of employees
Any number of function buttons can be added to a terminal
Any number of terminals can be defined
Works alongside or independently of traditional hardware terminals
Numerous styling options for terminal and button display to suite corporate look and feel
Integrates with standard People Inc. Time features (rounding's, grace etc.)
Implementation
The Software Clock is a People Inc. ESS add-on that enables employees to clock in from within the ESS. To set-up a copy of the software clock within a People Inc. system requires configuration work within the People Inc. time system and within the ESS.
There is a cost associated with the add-on. The cost depends on the size of the organisation in which it is used (number of employees). Please contact your account manager for more details.