Introduction
Organisation Charts are used to represent and communicate a company's structure visually. In addition to providing information about the individuals who work within the organisation, the charts show where each person fits into the reporting structure (who they report to, and who reports to them). Using organisation charts as a business tool has some clear benefits.
The People Inc. organisation charting plug-in is an integrated tool designed to generate org-charts directly from the data recorded within the People Inc. system. The plug-in uses employee information together with the reports-to details from current job records to generate organisation charts
Users can select the employees they wish to include in a chart by selecting companies, locations and departments. The information displayed in each cell in the org-chart shows is configurable and can be saved in a template-style and re-used as needed.
Organisation Chart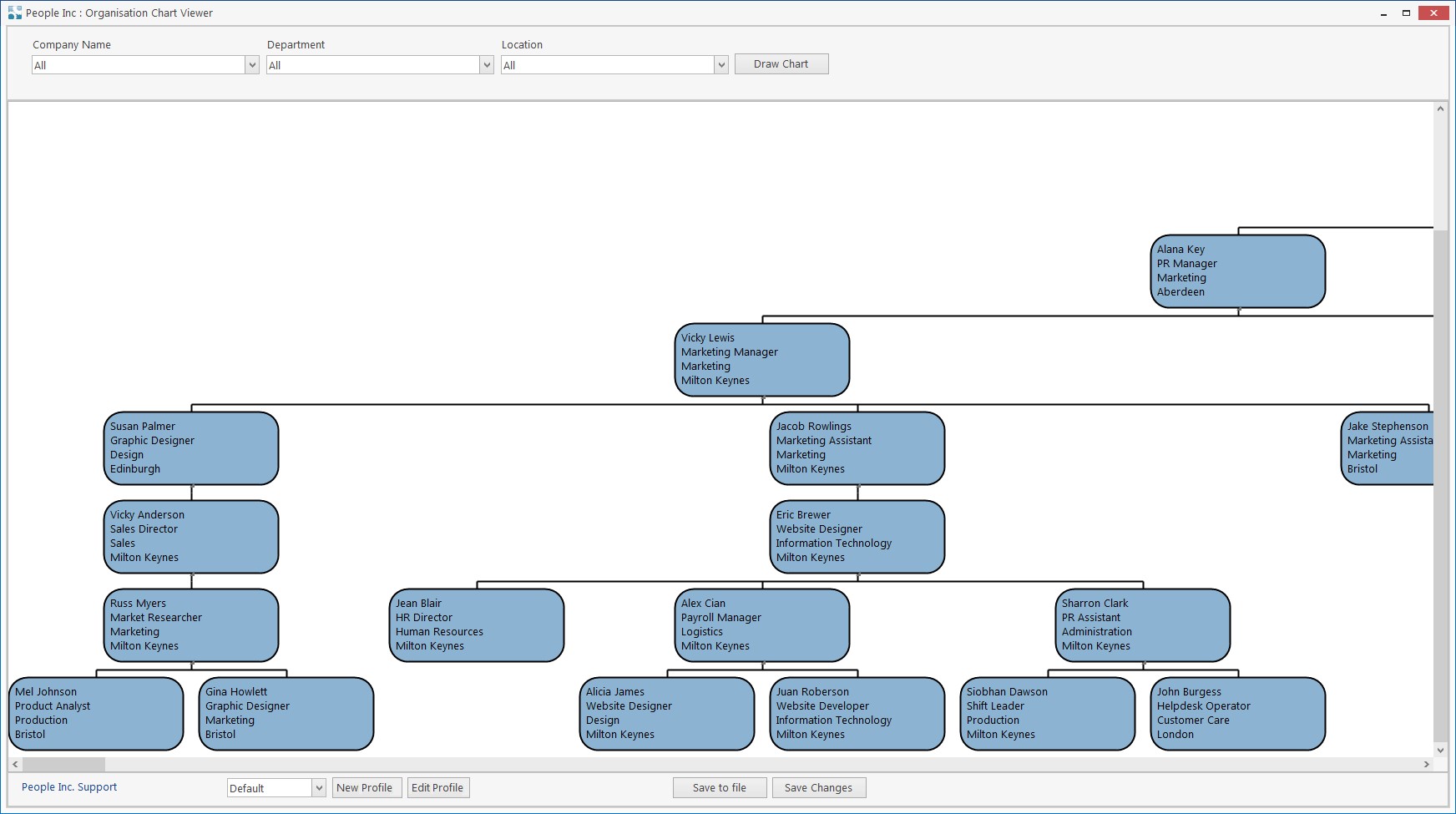 Features
The organisation chart plug-in produces traditional organisation charts detailing employees and their position within the company. This view of an organisation is easy to understand and can help with planning and management activities.
Each cell within the organisation chart provides additional information about the individual (such as department, job title and phone number). The contents of a cell are chosen from options on the settings screen. Each cell is linked to the employee's manager, and to employees they manage. These links are based on reports-to information in their record in People Inc.
Users can change the chart colours, fonts and box-shapes (and box colours). A number of styles can be saved within the system detailing the content and styling of cells. These styles can be re-used on any chart that is generated.
Branches of the organisation (or individual employees) can be moved within the chart so that they report to a different manager, they can also be removed if required.
Reports-to information within the People Inc. system can be updated by saving changes made to the reporting structure within a chart
Generate picture files based on the charts generated. These can be printed, re-distributed or used within documents
Features at a glance...
Generate org-charts quickly and effortlessly
Organisation hierarchy generated from system data
Show different employee details as required
Set up custom colours and styles
Move individual (or branches) within the chart
Save changes made within a chart (back to People Inc.)
Export and print generates charts
Benefits
Never need to edit an org-chart manually again. Generate professional organisation charts that incorporate data and report-to links from People Inc. quickly and effortlessly. The org-chart tool provides an overview of the current position of the company/employee structure at a glance, and makes organisation information is readily available.
Rather than keeping separate org-chart documents, make sure that HR information is kept in just one place, secure and up-to-date. When changes are needed, only one set of records needs to be amended.
Communicate with others. The charts generated by the org-chart tool can be extracted and sent to management or clients as required.
Implementation
The Organisation Chart tool is a People Inc. plug-in that displays information from employee's records. It will work with any People Inc. system and can be installed in just a few moments.
There are two versions of the tool; the basic tool is available free of charge; there is a cost associated with the advanced version. Please contact your account manager for more details.