Introduction
When the telephone rings, and it is picked up by a member of staff, how do they find out if a particular employee is in the office? And how do they find out if they are available to take the call?
Do they have easy access to the employee's telephone number or other contact details (e-mail, mobile, etc.)? If the individual is not available, how do they find a list of other people in the Customer Services team, or in Sales who can take the call?
Available on all office computers and on employees' mobile phones, the Employee Directory is designed to provide up-to-date availability and contact details for all staff.
Overview
The employee directory enables staff to look up employee contact details and availability via their PC or mobile phone. The listings provided are based on information recorded within the People Inc. system. Information displayed for each employee includes their phone number and e-mail, job details, department, etc.
The employee directory is accessed using a short-cut within the People Inc. ESS module. The screen-image (below) shows a basic configuration of the Employee Directory that uses the default colour-scheme and layout from the People Inc. ESS module. Styling options enable organisations to change the content and layout, the number of columns, the content of each cell, etc.
Employee Directory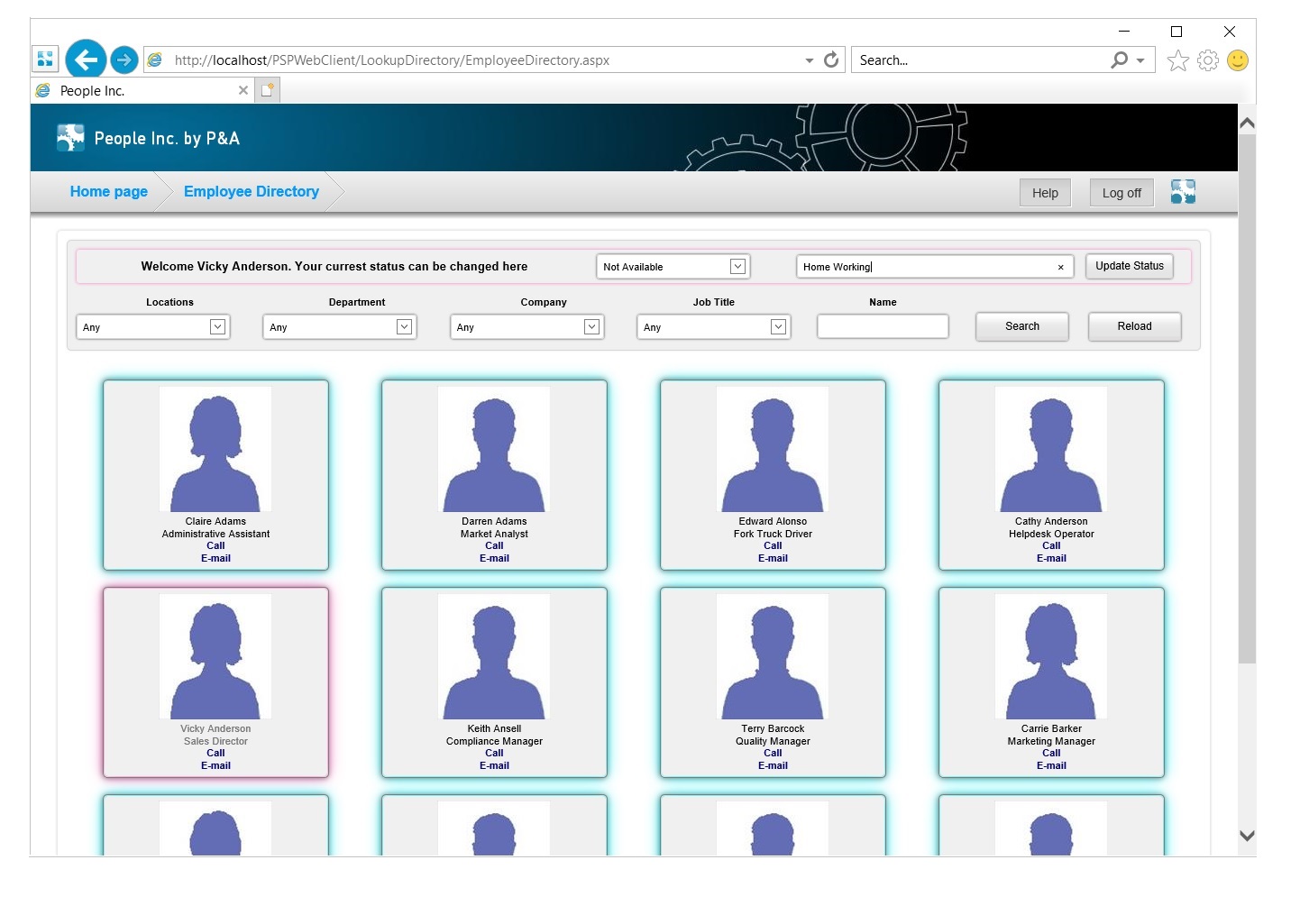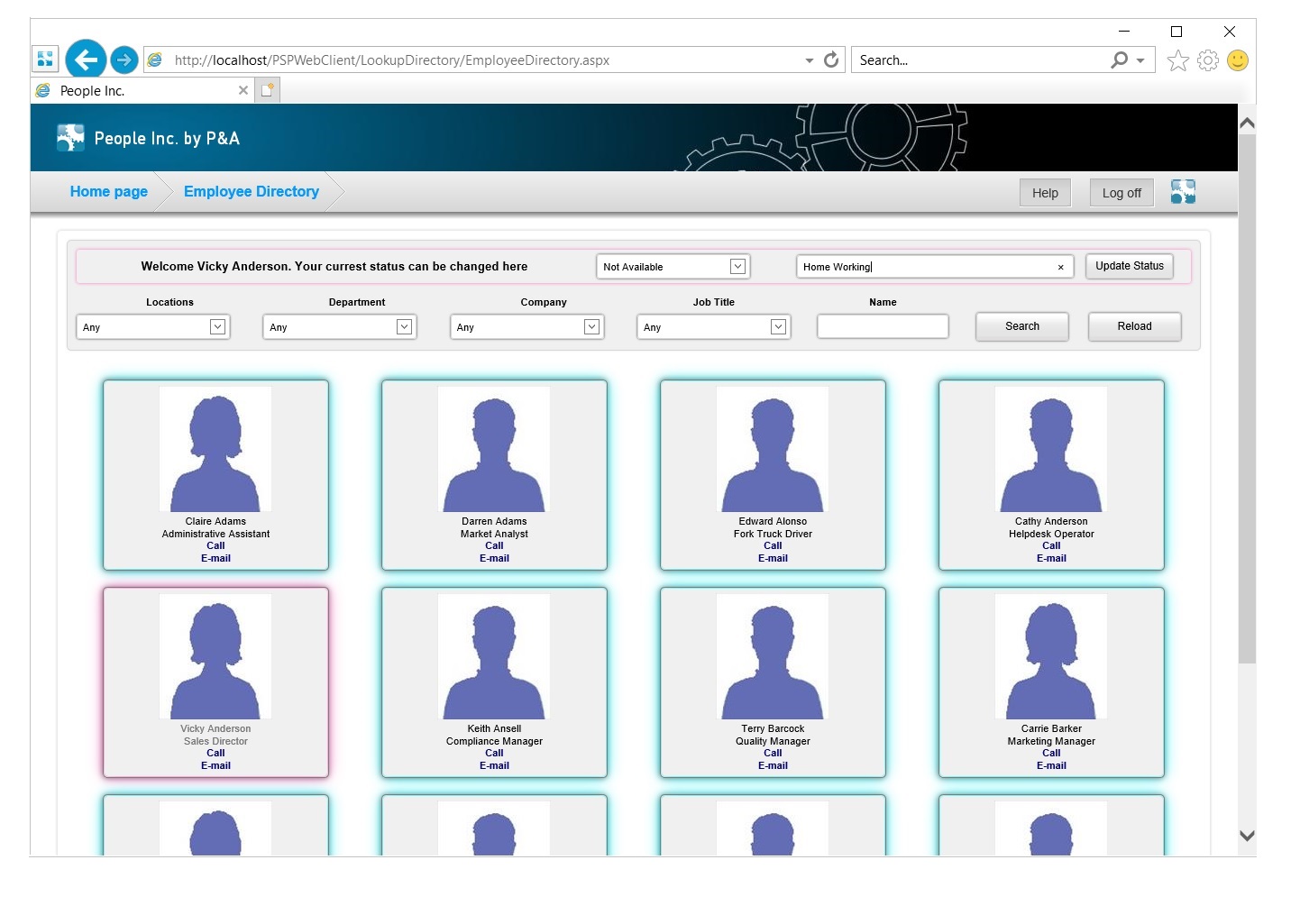 Features
Contact details are displayed in a configurable grid (system settings allow the organisation to specify the information in each cell). While the standard configuration of this add-on lists employees, their photo, and brief contact details, the add-on can be set up to display any other information that is required.
The employee information shown in the directory is taken from employee records within People inc. When contact details for an employee are changed in People Inc. the Employee Directory is updated automatically. Conversely, giving contact details visibility in this way means that out of date phone numbers and other records that need updating are spotted and sorted out quickly.
As well as providing access to up-to-date employee contact details, the add-on also provides an indication of staff availability based on individual work pattern and absence records held within the People Inc. system. Employees who are not at work are highlighted using a different colour shadow (the default colour is pink). It is also possible to display the reason they are not at work.
Users can filter and search for records within the directory.
Features at a glance...
Provides a searchable telephone directory
Information kept up-to-date automatically
Provides additional employee information, including photo
Configurable; users can display additional information
Possible to filter the entries (by department, location, etc.)
Provides indication of availability (based on work-pattern)
Availability automatically updated using absence records
Employee can update their availability
Includes a version for PC and another for mobile phone
Employees can update availability information as required. If they are in a meeting for a few hours and do not want to be disturbed, they can change their status accordingly. If they are working from home that can update their status to indicate that this is the case. The availability for all employees is reset overnight (using work pattern and absence booking information)
Benefits
Benefits at a glance...
Gain instant access to employee contact details
Understand who is available (and who is unavailable)
Find an alternative contact in a particular area
Information automatically updated
Click to send an e-mail to an individual
Click to call an individual (from a mobile phone)
Users can publish/manage additional employee details.
The Employee Directory feature was designed to enable all staff to benefit from the information held within the People Inc. system. Primarily this is focused on contact details and staff availability, but this could be extended to showing who provides first-aid (and where other qualified staff are), to show who is on-call, or to indicate staff with other special responsibilities.
When a call is received, the employee directory enables staff to help the caller (even when the individual they have asked for is unavailable). The directory makes it easy to find another member of the team to take the call.
The information displayed in the directory is automatically updated, and where this exposes details that need to be changed in the People Inc. system, there is a double-benefit gained.
Implementation
The Employee Directory is available in two versions. A version designed to work with the Employee Self-Service module (this version can be used from a PC or a mobile phone) and a version that works with just the standard People Inc. system. The images shown on this page are taken from the Employee Self-Service version of the Employee Directory.
Different organisations will benefit from different features available via this feature. The add-on is configurable and it is possible to change the way it looks, the information is shows, and the functionality it provides. Options are available to:
Integrate the Employee Directory with existing Intranet systems
Change the colours, fonts and general styling (to match other corporate systems)
Choose the type of information that you display; users can choose from a range of information held within the employee details in People Inc.
Enable or disable features (for example the feature that gives employees the ability to change the information about their availability)
There is a cost associated with the Employee Directory feature itself. The cost depends on the size of the organisation in which it is used (number of employees). Please contact your account manager for more details.
Employee Directory - mobile view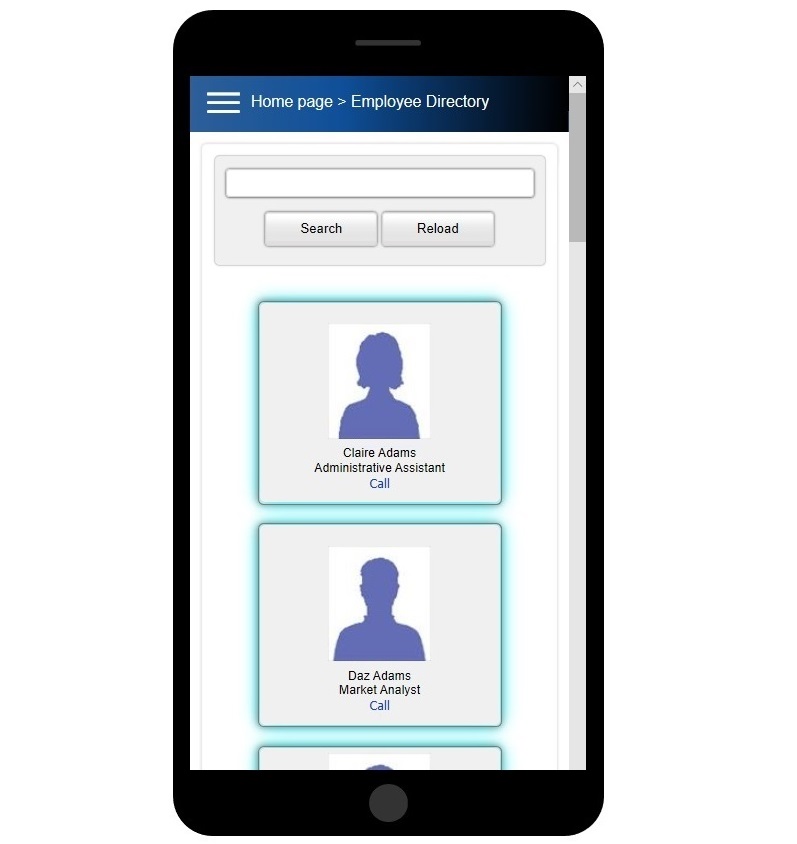 Related Features
The way the Employee Directory add-on makes contact details and availability information made available to others within the organisation is a good example of the additional value the People Inc. productivity tools can provide. Other similar examples of this include: