There are many ways that using the People Inc. Employee Self-Service system enables an organisation to automate processes, save time, and save paper. Adding forms to the ESS makes them available online. Employees can then complete these forms via a PC or mobile device.
Can we help?
This article looks at an example of an online form built using People Inc. If you would like to know more about customising your People Inc. system, or if you have a related query, we can ask one of our team to contact you.
Introduction
Having a simple on-line form to enable individuals to provide feedback on the training they have done is an easy way to gather information about the effectiveness of training.
Most employees are asked to complete an evaluation form when they complete a training course. The information they provide helps the organisation to work out how effective the training has been (and deal with any issues raised). Traditionally this has been done with paper-based forms, making the collection and the analysis of information a slow manual process.
Once employees start to use the form, users can analyse their answers, identify trends and focus in on issues, all without having to read through endless hand-written documents. Each form can link to training courses within the People Inc. system, automatically building a comprehensive historical record for each employee, for each course, and for each training supplier.
Example Training Feedback Form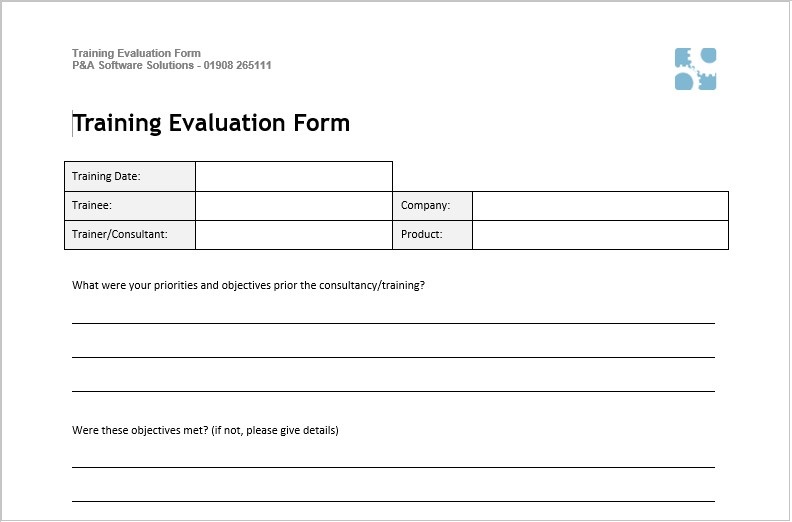 Adding a training evaluation screen to the People Inc. ESS will:
Save paper (and solve the missing e-mail conundrum)
Ensure staff use the latest version of the form, and validate the information added
Enable individual employees to provide feedback on training courses they have undertaken
Give employees the opportunity to identify training courses missing from their records
Enable HR to identify missing feedback forms (and follow this up with an e-mail)
Enable HR to undertake an analysis of the effectiveness of the training undertaken
Enable HR to ensure that any training-related shortcomings are addressed
Training Evaluation Form
A training evaluation form can be created using the People Inc. screen design tool. The content and layout of the form can match an existing form, or adding the form to the ESS can be an opportunity to review this. Forms added in this way can be published via the People Inc. ESS.
When an employee opens the Training Evaluation form, they can select the course they have attended using the drop-down provided on the screen*. They then work through the form and add feedback based on the questions asked. Questions can be formatted to use general notes (as shown above), a selection of answers (from a list), tick-boxes, or a combination of all of these formats.
* This applies when employee training has been pre-planned and training courses have been recorded within the People Inc. system.
Verification and Analysis
Administrators can use reports to establish who has provided feedback on training they have attended (and who has not). It is possible to send follow-up e-mails to those who have not completed training evaluation forms.
Reports can also provide an analysis of the content of the feedback provided. For example:
Which courses are not meeting the requirements or standards set by attendees?
Which suppliers are providing the highest level of training?
Which training activities need to be re-visited?
Are all training provides value for money?
More Information
If you would like more information about setting up custom forms using the People Inc. system, of if you would like to discuss how you manage training evaluation using the system, please contact us on 01908 265111, or click the button below to request a call-back.
---