18th February 2020
Introduction
The People Inc. training matrix plug-in provides an overview of employee training, detailing the courses they have completed, training needs and any planned training. The feature uses information recorded in the Training History within the People Inc. system to build a configurable grid. Users can then see gaps in the training provided to staff via the colour-coded entries.
Training Matrix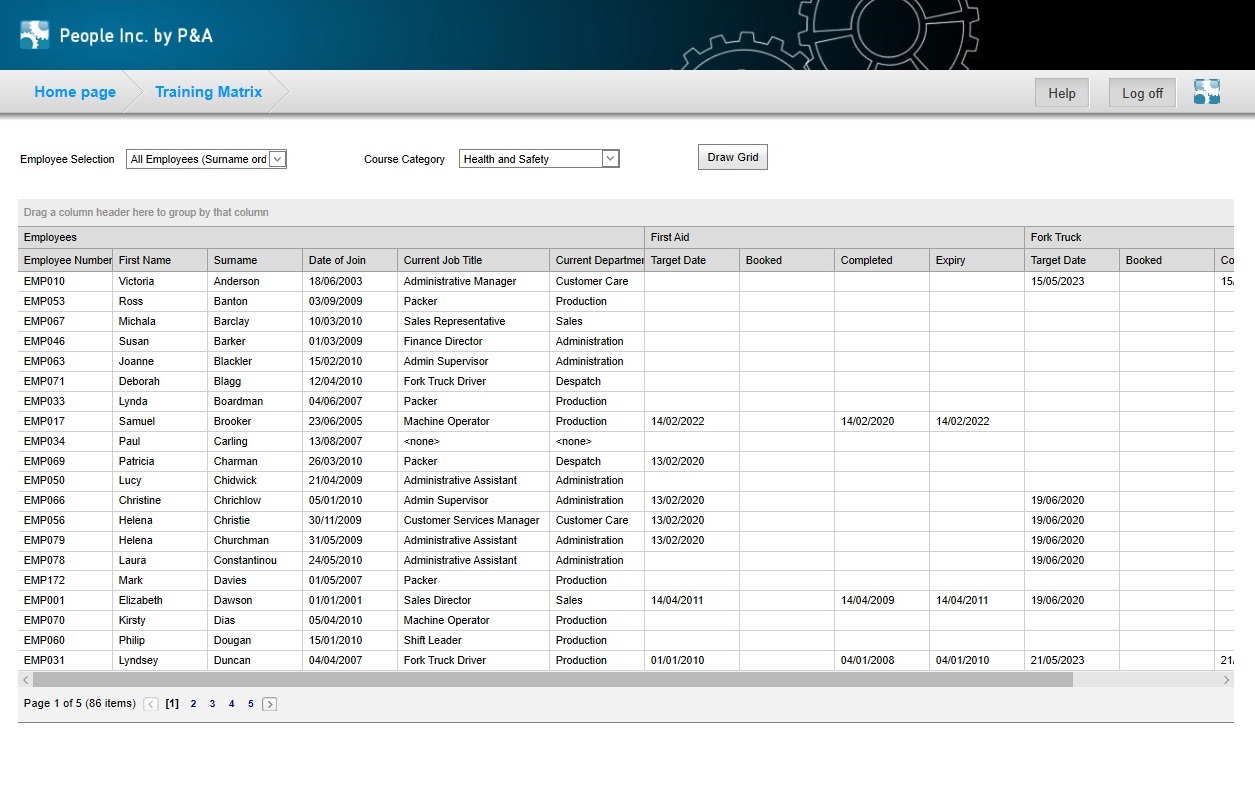 Functionality
The information in the grid can be filtered, so that it shows a selection of employees, or a category of course. The grid can be re-sorted, or grouped (by location, department, etc). Each cell in the grid represents a particular course (for a particular employee), and shows a target date for the training, the date a course was attended, and when the training expires. A history of an employee's training (for a particular course) can be seen by double-clicking on a cell.
The grid automatically identifies mandatory training for each employee (based on the settings in People Inc.). Users can create training needs and book training courses from within the grid, either individually, of for a selection of employees. The grid can be exported to MS Excel at the click of the mouse.
More Information
Click on the blue button for more information about the People Inc. Training Matrix feature and how it can help your organisation manage employee training records. Alternatively join one of our Training Matrix webinars (see below). If you would like to discuss training management in more detail with us, please call the People Inc. team on 01908 265111.

More Information
Training Matrix
Training Matrix
Webinars
If you would like to learn more about the People Inc, Training Matrix, please join one of our free webinars:
Wednesday 3rd March 2020 at 11am
Wednesday 3rd March 2020 at 2pm
Thursday 4th March 2020 at 11am
Thursday 4th March 2020 at 2pm
Click the blue 'Webinar' button to book a place.

Webinar
Click here to join a webinar.
Webinar
Adding the Training Matrix to your People Inc. system.
There are two versions of the People Inc. Training Matrix. A copy that can be accessed via the employee Self Service module, and an interactive copy that also enables you to manage bookings. The interactive copy is an optional People Inc. plug-in. Please call our help desk to discuss adding this functionality your copy of People Inc.
Discover more about these topics

Related Features
People Inc. provides a variety of tools to help build a workforce to meet the challenges your organisation faces. Some examples are provided below:
External Resources
The following links provide additional information about employee training. The links are to pages on websites over which we have no control. This information is provided for reference only.