8th September 2016
Introduction
Organisations need to record staff attendance if they have employees who are hourly paid or work flexible hours. Individuals may also submit timesheets if they are paid for overtime they work.
Timesheets are often paper-based process, but this can introduce a number of problems. This forms have to passed them from desk to desk and the details then entered into the organisations payroll system. These can both be time-consuming and prone to error.
People Inc. Timesheet Add-on
Managing time-sheets electronically ensures that accurate and complete details are recorded, that timesheets are submitted quickly and efficiently, that they are processed easily (with an accessible audit trail), and that they are then paid and filed.
Implemented within the Employee Self-Service module, the People Inc. Time-sheet Add-on enables employees to record and manage time-sheets electronically. Individuals add their own time-sheets; these are automatically routed to their manager for review; once approved the details can then be extracted (in MS Excel format for example) for payroll processing.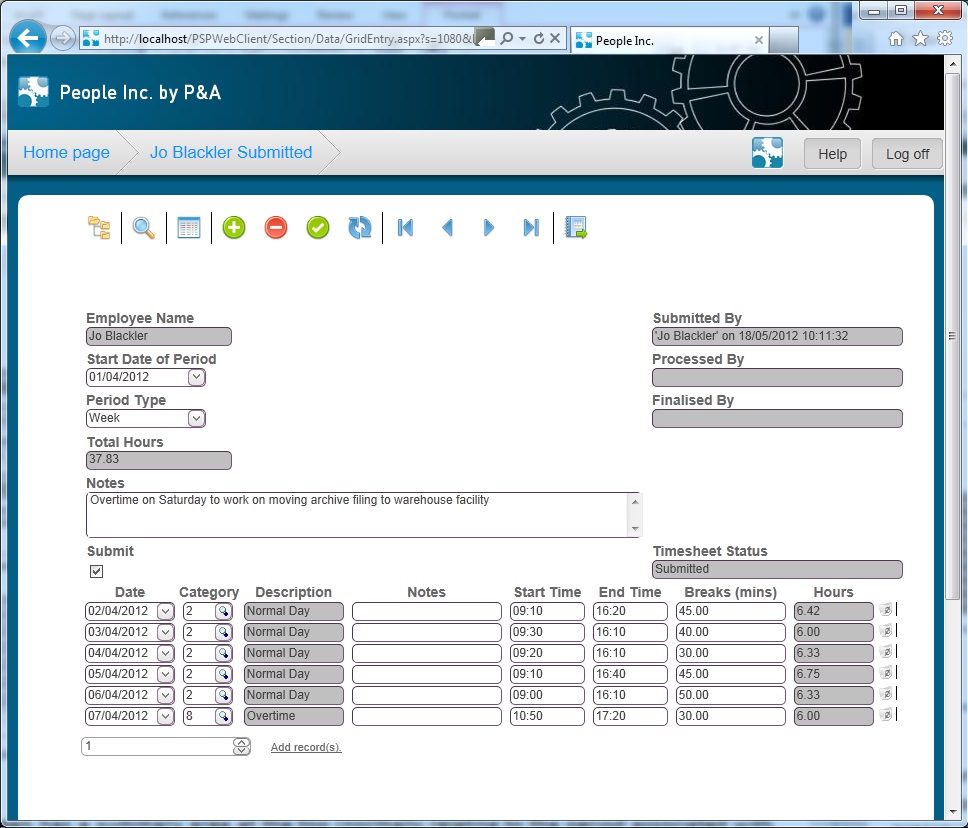 More Information
For more information about the Timesheet feature join one of our webinars (see below), click on the 'Learn More' button at the bottom of this page, or call the People Inc. team on 01908 265111.
Webinars
If you would like to learn more about the Timesheet feature, please join one of our free webinars:
Wednesday 21st September 2016 at 11am
Wednesday 21st September 2016 at 2pm
Thursday 22nd September 2016 at 11am
Thursday 22nd September 2016 at 2pm
Click on the button below to book a place on a Webinar, or call People Inc. on 01908 265111.

Learn More
More information about Employee Timesheets
Learn More

Webinar
Click here to join a webinar.
Webinar