Group Level Analytics
24th June 2020
Introduction
The new online statistics feature provides Employee Self-Service users with dashboard-style reporting. Based on data taken from the groups they manage, the feature displays an overview of HR-related metrics in a visual or graphical format.
This is designed to help managers within the organisation understand trends and prompt them to initiate any appropriate actions or raise any concerns they have. The graphical representation makes the figures easier to understand and means that users are more likely to review them regularly. The information is presented so that individual managers can compare figures for their team against similar figures for the whole organisation.
Online Statistics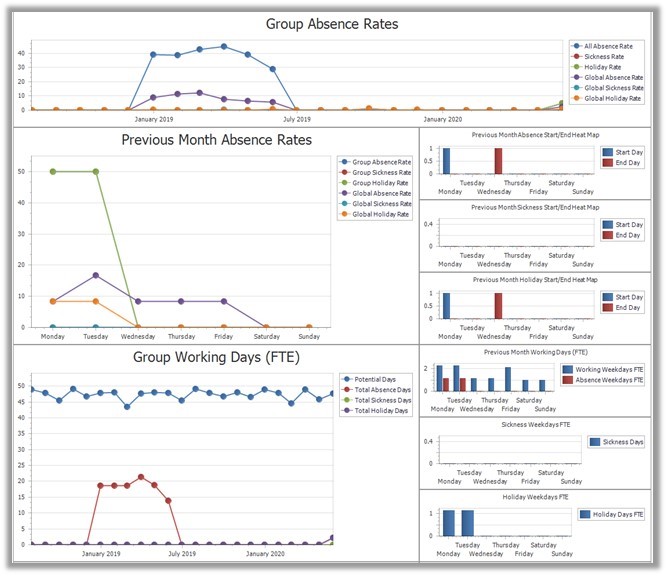 The information is provided on panels within the statistics feature. The first panel provides information on employee absence; panels that provide some diversity information (Age, Gender and Ethnicity). For each section, a comparison with the overall figures for the organisation is provided.
More Information
For more information about the statistics feature, join one of our webinars (see below), click on the 'Learn More' button at the bottom of this page, or call the People Inc. team on 01908 265111.
Webinars
If you would like to learn more about this new feature, please join one of our free webinars:
Thursday 9th July 2020 at 11am - fully subscribed
Thursday 9th July 2020 at 2pm
Click on the button below to book a place on a Webinar, or call People Inc. on 01908 265111.

Learn More
More information about ESS Statistics
Learn More

Webinar
Click here to join a webinar.
Webinar
Can we help?
If you have not found the information you are looking for (information about this online statistics feature or a related topic), please contact us on 01908 265111, or click the button below to request a call-back.
---