Managing the mail queue
It is possible to send email from within the People Inc. system. This can be done either manually using the screen e-mail feature, or automatically, when a particular condition is met or event arises. For example, it is possible within People Inc time, to configure the system so that it notifies a manager by e-mail when an employee is late.
Mail Queue Manager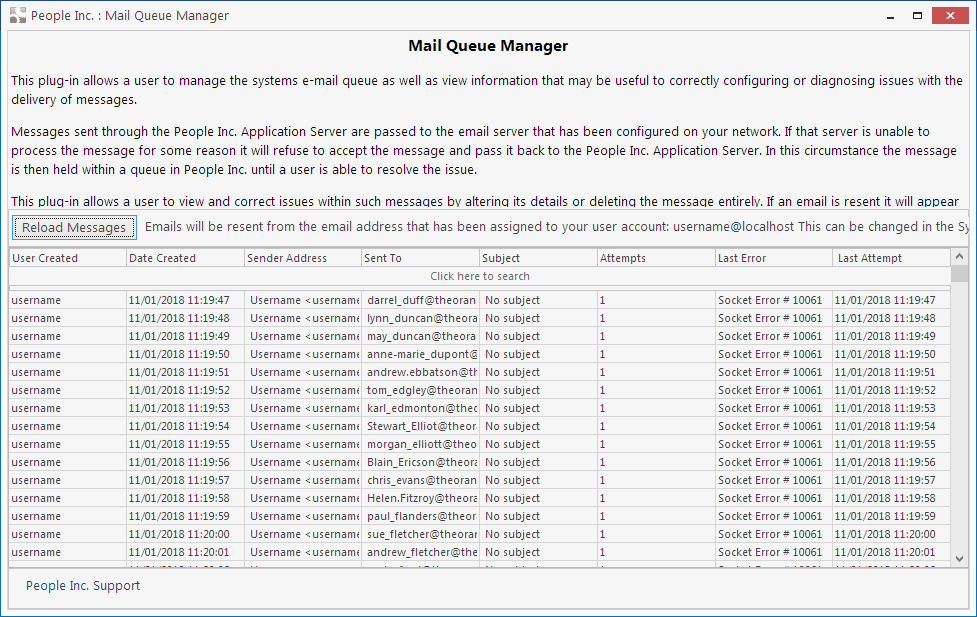 &nbsp
When e-mail is generated automatically from within People Inc. it is sent directly to an e-mail server. If this fails, the message will then be added to the People Inc. e-mail queue, and the system will then try to resend the message (every few minutes).
The system may fail to send e-mail for a variety of reasons. The most common is an incorrect email address having been used for an employee (as the from-address in the message). In this situation, the e-mail server will reject the e-mail message. It is also possible to lose the connection to the e-mail server (during maintenance or an outage on the network or on the e-mail server). Messages that are not sent successfully will be added to the mail queue. The Mail Queue Manager plug-in enables users to manage the system's queued email messages. Users are able to resend email message or delete the message from the system.
&nbsp
Webinar
If you would like to gain a better understanding of this plug-in and what it is designed to do, please join one of our free webinars:
Monday 18th December @ 11am
Wedneday 20th December @ 3pm - Fully subscribed
Friday 22nd December @ 1:30pm
Thursday 4th January @ 10am - Fully subscribed
&nbsp
Download the Mail Queue Manager
A copy of the Mail Queue Manager plug-in can be downloaded (and installed) free-of-charge from the Resources area of this website. Once downloaded, you are likely to need to ask your IT team to install the plug-in for you. Please note that you will need to register for an account before you can access People Inc. resources. Click here.